Hopsak
Hopsak -
View Swatch Details
Cozy
Cozy -
View Swatch Details
Request free swatches
Arrives in 4-7 business days
Mix of feather, down, fiber, and foam filling for optimal comfort.
Canted back for great lumbar support.
Thin arms for maximum seating area.
Shipping Options
Return Options
Not satisfied with your purchase? We'll work with you to make it right. Contact us within three (3) days of your order's delivery.
Learn more
.
5-year warranty (terms and conditions may vary)
Details
Details
The Bevel Collection (2014) only looks perfectly angular – in reality, it offers soft, pliable cushions and comfortable back support thanks to that distinct bevel. Bevel is one of the works of renowned design team BassamFellows, delivering comfort and elegance in one beautiful package. This lounge seating family was created to complement classic designs by Eames, Nelson, and Noguchi.
Mix of feather, down, fiber, and foam filling for optimal comfort.
Canted back for great lumbar support.
Thin arms for maximum seating area.
Brand
Collection
General Dimensions
Product Weight

185 lbs
Assembly

Comes fully assembled
Warranty

5-year warranty (terms and conditions may vary)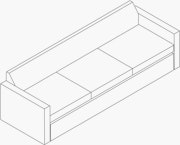 3 Seat
Height (in): 28
Width (in): 92
Depth (in): 30
Weight (lbs): 185
Seat Height (in): 17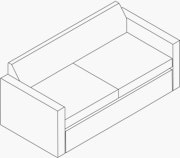 2 Seat
Height (in): 28
Width (in): 64
Depth (in): 30
Weight (lbs): 134.75
Seat Height (in): 17
Kiln-dried, corner-blocked hardwood frame

Unidirectional webbing suspension

Foam seat cushions wrapped in 90% UltraClean™ duck feathers and 10% UltraClean™ duck down

Foam back cushions with polyester fiber fill

Ebony-stained ash legs

100% wool fabric or MCL all-grain leather upholstery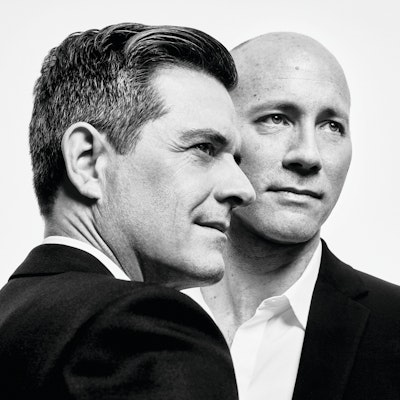 BassamFellows
Together Craig Bassam and Scott Fellows have forged a style called Craftsman Modern, a new design movement that focuses on traditional modernist principles – honest materials, solid construction, utility, beauty without elaboration – alongside warmth and natural materials, believing that nature is a key part of modern living.
More on BassamFellows
Care & Maintenance
With regular care and maintenance, your Herman Miller product will provide many years of superior performance and satisfaction. To maintain quality, please follow the cleaning procedures outlined here.
The instructions for the care and maintenance of Herman Miller products are provided to you as a service. No warranty is implied since results may vary.
Wood & Veneer
This includes Herman Miller products finished with wood veneer or recut wood veneer, except the oiled Eames Lounge Chair and Ottoman with Rosewood, Oiled Walnut, or Oiled Santos Palisander veneer unless specifically noted.
Normal Cleaning
Dust regularly with a slightly damp, soft, lint-free cloth. Wipe dry with a dry, soft cloth in the direction of the wood grain. Spills should be immediately wiped up with a damp cloth.
Once a month
Clean the surface with a soft cloth dampened with a quality cleaner formulated for wood furniture. Wipe the surface in the direction of the wood grain to remove dirt and fingerprints. Wipe dry with a clean, dry cloth.
Twice a year
Apply a good quality furniture polish with a soft cloth. Do not use aerosol-powered cleaners or polishes. Also, do not use polishes containing waxes or abrasives, or polishes that are oil based.
Stains
Herman Miller veneers meet strict testing standards for resistance to wear, light, stains, water, and pressure. To reduce the risk of damage, take some precautions: Use coasters for glasses and mugs. If a glass top is added to the veneer surface, be sure it rests on felt pads. Don't place a potted plant on a veneer surface unless it's in a water-tight container or in a drip tray. Don't let vinyl binders stay on a surface for very long. Use protective pads under equipment with "rubber" cushioning feet. Some chemical compounds used in the feet on office equipment, such as printers and monitor stands, may leave permanent stains or marks.
Minor repair of water rings, stains, and scratches
Rub the surface lightly in the direction of the wood grain using No. 000 steel wool. Apply a scratch-removing polish with a color and value that simulate the veneer. If the scratches are deep, consult a professional furniture refinisher.
Other Damage
Wood is susceptible to bruising and scratching from heavy office equipment, so we encourage a protective surface is placed underneath. Objects should be lifted instead of dragged across a surface. Protective pads should be used under items with a rough bottom, like pottery. Denting, caused by extreme pen pressure when writing, can also damage veneer. Use desk pads or some other protection where a lot of paperwork is done. Sunlight can damage veneer as well, so veneer surfaces should not be in direct sunlight. To help a surface age evenly, users can periodically move items on their desks so that the entire surface is exposed to an even amount of light over time. In addition to light, extremely high or low humidity is a damaging environmental factor. Herman Miller suggests maintaining a relative humidity of 35-65 percent.
Fabric
For normal cleaning, vacuum upholstery fabric using an upholstery attachment. If further cleaning is needed, dry-clean or spot clean fabric with solvent cleaner.
Do not brush fabric or use a vacuum attachment with a rotary brush. Brushing may permanently damage the nap or change the character of the fabric.
Do not apply water or any liquid solution. Wetting the fabric with any liquid solution may result in permanent damage.
Leather
For normal cleaning, vacuum or dust frequently with a clean, dry cloth. If leather is soiled, it can be wiped with a damp soft cloth and a lather of any mild soap and a minimum amount of lukewarm water. Do not spot clean leather; clean the entire surface. Wipe clean with a damp cloth and dry with a clean, soft cloth.
For spots and spills, wipe excess liquid immediately with a clean cloth or sponge; let the leather air dry. If the spot is still visible, further cleaning may be necessary. Sponge the entire surface—seat, back, or chair arm—with clean, lukewarm water. Let the leather air dry; never use a hair dryer or other heat source to dry leather.
For stubborn spots and stains, apply a mild, nonabrasive soap solution with a clean, wet sponge. Rinse well and let air dry. For butter, oil, or grease, wipe the leather with a clean, dry cloth and let the remainder of the oil dissipate into the leather. Do not apply water or try to wash a grease spot.
Do not use saddle soap, cleaning solvents, oils, furniture polishes, varnishes, abrasive cleaners, detergents, or ammonia on leather; they will ruin the finish, causing it to become sticky and cracked.