5 out of 5 Customer Rating





5 out of 5 Customer Rating
Crepe Linen Fabric
Crepe Linen Fabric -
View Swatch Details
Cozy
Cozy -
View Swatch Details
Request free swatches
Arrives in 4-7 business days
Slim, upright modern sofa.
Fits easily in almost any space.
Firm yet plush foam cushions.
Shipping Options
Return Options
Not satisfied with your purchase? We'll work with you to make it right. Contact us within three (3) days of your order's delivery.
Learn more
.
5-year warranty (terms and conditions may vary)
Details
Details
The inspiration for the Eames Sofa Compact (1954) derived from a built-in sofa designers Charles and Ray Eames designed in the late 1940s for their home in Pacific Palisades, California. They liked that sofa so much, they decided to develop a freestanding version built on an airy pedestal of chromed-steel legs. With plush foam cushions supported by resilient webbing, it offers firm but flexible all-around comfort. This is an authentic Eames product by Herman Miller.
Slim, upright modern sofa.
Fits easily in almost any space.
Firm yet plush foam cushions.
Brand
General Dimensions
Product Weight

200 lbs
Assembly

Comes fully assembled
Warranty

5-year warranty (terms and conditions may vary)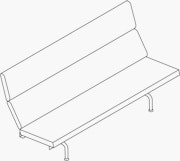 Eames Sofa Compact
Height (in): 35
Width (in): 72½
Depth (in): 30
Weight (lbs): 200
Seat Height (in): 16
Seat Width (in): 72½
Seat Depth (in): 18
Chromed steel frame

Polyurethane foam cushions

Fabric-reinforced rubber webbing

100% polyester crepe upholstery

Stainless steel glides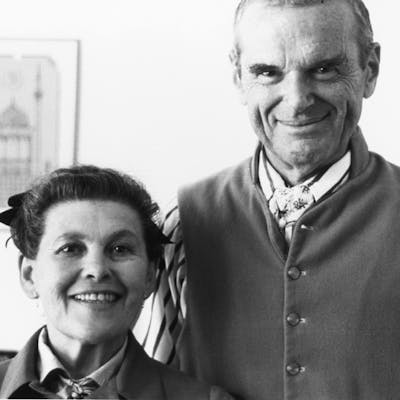 Charles and Ray Eames
Design is for living. That maxim shaped a widespread shift in design during the 1940s and '50s. It was a revolution of form, an exciting visual language that signaled a new age and a fresh start – and two of its prime movers were Charles and Ray Eames. This husband-and-wife team's unique synergy led to a whole new look in furniture. Lean and modern. Sleek and simple. Beautifully functional.
More on Charles and Ray Eames
Care & Maintenance
With regular care and maintenance, your Herman Miller product will provide many years of superior performance and satisfaction. To maintain quality, please follow the cleaning procedures outlined here.
The instructions for the care and maintenance of Herman Miller products are provided to you as a service. No warranty is implied since results may vary.
Chrome
For normal cleaning, wet cheesecloth in a nonabrasive cleaner, like liquid dish soap, and rub the chrome component lightly until the original luster reappears. Dry the component with a soft cloth to remove any soap residue.
Coated Metal
For normal cleaning, wash coated metal surfaces with a soft cloth soaked in detergent and warm water; rinse thoroughly and dry. Remove scuff marks from low-gloss coatings with pre-softened paste wax, following the manufacturer's instructions. Remove scuff marks and scratches from high-gloss coatings using automotive polishing compounds, either liquid or paste. After polishing, apply a pre-softened automotive paste wax to restore original sheen. For assistance in determining the appropriate color and gloss for Herman Miller touch-up paint, contact your Herman Miller Customer Service Representative.
Fabric
For normal cleaning, vacuum upholstery fabric using an upholstery attachment. If further cleaning is needed, dry-clean or spot clean fabric with solvent cleaner.
Do not brush fabric or use a vacuum attachment with a rotary brush. Brushing may permanently damage the nap or change the character of the fabric.
Do not apply water or any liquid solution. Wetting the fabric with any liquid solution may result in permanent damage.
Vinyl Upholstery
For normal cleaning, wash vinyl upholstery with a soft cloth or soft-bristled brush lathered with mild, nonabrasive soap and lukewarm water. Before the surface dries, wipe with a clean, dry cloth to remove any residue. This procedure may be repeated to remove stubborn dirt or stains.
Ink spots can sometimes be removed by washing with soap and water followed by isopropyl alcohol.
Do not use any cleaning method that is not listed above, as other methods may attack the vinyl and cause eventual degradation.
Reviews

Questions + Answers