5 out of 5 Customer Rating
Price reduced from

$2,495.00

to
$2,120.75
15% off









5 out of 5 Customer Rating
Price reduced from

$2,495.00

to
$2,120.75
15% off
Hand-finished solid teak tabletop.
Powder-coated aluminum frame.
Features superior corrosion resistance.
Shipping Options
Threshold Delivery, In-Home Delivery
Return Options
Not satisfied with your purchase? We'll work with you to make it right. Contact us within three (3) days of your order's delivery.
Learn more
.
2-year warranty (terms and conditions may vary)
Details
Details
The Grid Collection (2014) consists of several modular units that can be combined or rearranged to meet changing needs. This is a collection designed to bring indoor comfort outdoors, meticulously crafted to withstand the elements and look great for years to come. Topped with hand-finished solid teak, the Grid Coffee Table stands on an aluminum frame pretreated with chrome and electrostatically powder-coated for superior corrosion resistance. Made in Indonesia.
Hand-finished solid teak tabletop.
Powder-coated aluminum frame.
Features superior corrosion resistance.
Brand
Collection
General Dimensions
Product Weight

20.5 lbs
Assembly

Requires Assembly
Warranty

2-year warranty (terms and conditions may vary)

Grid Coffee Table
Height (in): 9¾
Width (in): 40½
Depth (in): 40½
Weight (lbs): 20.5
Solid teak tabletop

Powder-coated aluminum frame
Henrik Pedersen
Inspired by a desire to create products that are genuinely useful to the user, Danish designer Henrik Pedersen approaches his work by combining today's trends with materials, forms, and functions that will last well beyond tomorrow. This fusion of ideas results in down-to-earth concepts that, even in their simplicity, are able to captivate with their originality and intuitive thinking.
More on Henrik Pedersen
Care & Maintenance
Caring for Teak
Left to weather naturally outdoors, unfinished teak will gradually change color to a soft silver-grey as pigments in the surface layer begin to fade. We recommend allowing teak furniture to weather naturally in that way, and simply cleaning it thoroughly once or twice a year. If left in shade for long periods, teak will retain surface moisture and eventually develop mildew. Do not allow mildew to remain for extended periods. Remove mildew with teak cleaner, available at local hardware stores. Use a soft bristle brush to help with cleaning. Rinse thoroughly after cleaning and place furniture in a sunny area to dry.
Never use a power washer to clean teak. If you wish to retain the gold-brown color of new teak, apply a teak sealer. Sealing your teak furniture will not affect its strength or longevity, only its appearance. Once you seal teak furniture, you will need to regularly reseal it to provide continuous protection. Sealing also voids the one-year DWR warranty.
We recommend customized DWR rain covers for teak furniture left outdoors for long periods of inclement weather. DWR rain covers are breathable to mitigate mildew growth. In winter, store in a shed or garage. Store cushions separately to prevent transfer of moisture.
Caring for Cushions
One of the best ways to keep outdoor fabrics looking good and to delay deep cleanings is to properly maintain the fabrics. This can be accomplished by simply brushing off dirt before it becomes embedded, wiping up spills as soon as they occur and spot-cleaning soon after stains occur. Do not iron or dry-clean. To keep cushions looking their best, take them inside when not in use.
Follow these steps for general or light cleaning:
Brush off loose dirt.
Mix a solution of 2 ounces (1/4 cup) mild detergent – such as Woolite® laundry detergent or Dawn® dish-washing liquid – dissolved in a gallon of lukewarm water.
Use a sponge or a soft bristle brush to apply the solution.
Allow solution to soak into fabric.
Rinse thoroughly to completely remove solution residue.
Allow fabric to air-dry.
Printer Friendly Care & Maintenance
You may also like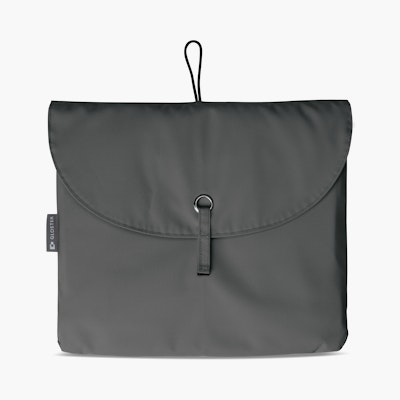 Grid Adjustable Chaise Cover
Gloster
Price reduced from

$1,045.00

to
$731.50
30% off
Reviews

Questions + Answers