Outdoor T.710 Small Side Table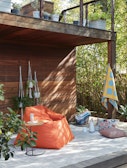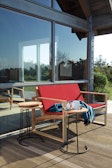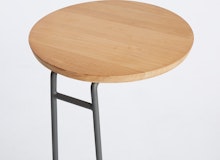 Outdoor T.710 Small Side Table
Simple design.
Small footprint.
Stackable.
Shipping Options
Return Options
Not satisfied with your purchase? We'll work with you to make it right. Contact us within three (3) days of your order's delivery.
Learn more
.
DWR honors a one (1) year warranty on all products. Brand-specific warranties may extend to longer periods.
A simple beauty —
Perfect for porch or patio, this little beauty stands proud in its simplicity. And it stacks up to three high.
Details
Details
A succinct statement
This friendly T.710 Side Table (1950) was designed by Jens Risom, a native of Copenhagen and a pioneer in introducing Danish modern design to the United States. Made of wood and metal, this table creates the illusion of having a floating top. Due to its compact size and small footprint, it fits right in, even in tight areas. Stacks up to three high. Made in Malaysia.
Simple design.
Small footprint.
Stackable.
Brand
General Dimensions
Box Dimensions
Assembly

Comes fully assembled
Warranty

DWR honors a one (1) year warranty on all products. Brand-specific warranties may extend to longer periods.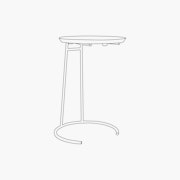 Outdoor T.710 Small Side Table
Height (in): 21
Width (in): 14
Depth (in): 16
Teak top

Powder-coated stainless steel base
Jens Quistgaard
With the introduction of his first products in the 1950s, industrial designer Jens Quistgaard was instrumental in bringing Danish Modern to midcentury American homes, and in the process, he transformed the way we look at housewares.
More on Jens Quistgaard
Care & Maintenance
Caring for Teak
Left to weather naturally outdoors, unfinished teak will gradually change color to a soft silver-grey as pigments in the surface layer begin to fade. We recommend allowing teak furniture to weather naturally in that way, and simply cleaning it thoroughly once or twice a year. If left in shade for long periods, teak will retain surface moisture and eventually develop mildew. Do not allow mildew to remain for extended periods. Remove mildew with teak cleaner, available at local hardware stores. Use a soft bristle brush to help with cleaning. Rinse thoroughly after cleaning and place furniture in a sunny area to dry.
Never use a power washer to clean teak. If you wish to retain the gold-brown color of new teak, apply a teak sealer. Sealing your teak furniture will not affect its strength or longevity, only its appearance. Once you seal teak furniture, you will need to regularly reseal it to provide continuous protection. Sealing also voids the one-year DWR warranty.
We recommend customized DWR rain covers for teak furniture left outdoors for long periods of inclement weather. DWR rain covers are breathable to mitigate mildew growth. In winter, store in a shed or garage. Store cushions separately to prevent transfer of moisture.
Printer Friendly Care & Maintenance