Estimated Arrival:
Available to ship in: 7 weeks
Groundbreaking use of industrial materials.
Originally made of steel, now made of aluminum for easy movement.
Legendary designer.
Shipping Options
Return Options
Not satisfied with your purchase? We'll work with you to make it right. Contact us within three (3) days of your order's delivery.
Learn more
.
1-year warranty (terms and conditions may vary)
Groundbreaking design —
The I Beam Collection, among the first of its kind, derives its design interest from the ironic placement of coarse construction materials in a refined setting.
Details
Details
Job site to living room
Intrigued by the raw aesthetic of industrial materials, Ward Bennett created the original prototype for his I Beam Table (1963) by cutting a section off an actual steel I-beam, which he went on to use in his own Manhattan apartment for decades. It remains an eye-catching icon of modern design to this day, now crafted of powder-coated aluminum and glass. Bennett's diverse works reside in the permanent collections of the Cooper Hewitt and MoMA, among others.
Groundbreaking use of industrial materials.
Originally made of steel, now made of aluminum for easy movement.
Legendary designer.
Indoor Advantage Gold certification is SCS Global Services' highest level of indoor air quality performance for furniture. The certification ensures that furniture products support a healthy indoor environment by meeting strict chemical emission limits for volatile organic compounds (VOCs).
Brand
Collection
General Dimensions
Product Weight

72 lbs
Box Dimensions
Assembly

Comes fully assembled
Warranty

1-year warranty (terms and conditions may vary)
Lifestyle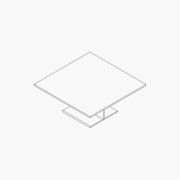 I Beam Coffee Table
Height (in): 15.25
Width (in): 36
Depth (in): 36
Weight (lbs): 72
Powder-coated cast-aluminum base

Glass top
Ward Bennett
With his signature "sensual minimalism" as his guide, Ward Bennett designed more than 150 chairs. Hailed by the American Institute of Architects, Bennett is credited as an American pioneer in the use of industrial materials for home furnishings – a prime example being his early '60s I Beam Table, which employs a section of beam for a base.
More on Ward Bennett
Care & Maintenance
With regular care and maintenance, your Herman Miller product will provide many years of superior performance and satisfaction. To maintain quality, please follow the cleaning procedures outlined here.
The instructions for the care and maintenance of Herman Miller products are provided to you as a service. No warranty is implied since results may vary.
Glass
For normal cleaning, use products specifically designed for glass.
Stone
Products with stone include tabletops of marble, granite, and slate.
For normal cleaning, wash with a soft cloth and a mixture of a mild detergent and warm water. Rinse with warm water, and wipe dry with a clean, soft cloth.
Rinse the tabletop with warm water to remove surface dirt and wipe dry with a clean, soft cloth for routine maintenance.
Acid-based liquids, such as coffee, wine, and fruit juice, need to be wiped up immediately using a clean, soft cloth. The longer a spill remains, the more difficult it will be to remove and may stain.
Do not use abrasive, acid, alcohol-based, or solvent-based cleaners, they will damage the surface.
Coated Metal
Routine Maintenance
For normal cleaning, wash coated metal surfaces with a soft cloth soaked in detergent and warm water; rinse thoroughly and dry. Remove scuff marks from low-gloss coatings with pre-softened paste wax, following the manufacturer's instructions. Remove scuff marks and scratches from high-gloss coatings using automotive polishing compounds, either liquid or paste. After polishing, apply a pre-softened automotive paste wax to restore original sheen. For assistance in determining the appropriate color and gloss for Herman Miller touch-up paint, contact your Herman Miller Customer Service Representative.