Cultivating
community
At their Hudson Valley, NY, retreat, Georgie Badiel Liberty and Chid Liberty grow vegetables, cook African-inspired feasts, and welcome friends and fellow social entrepreneurs around their table.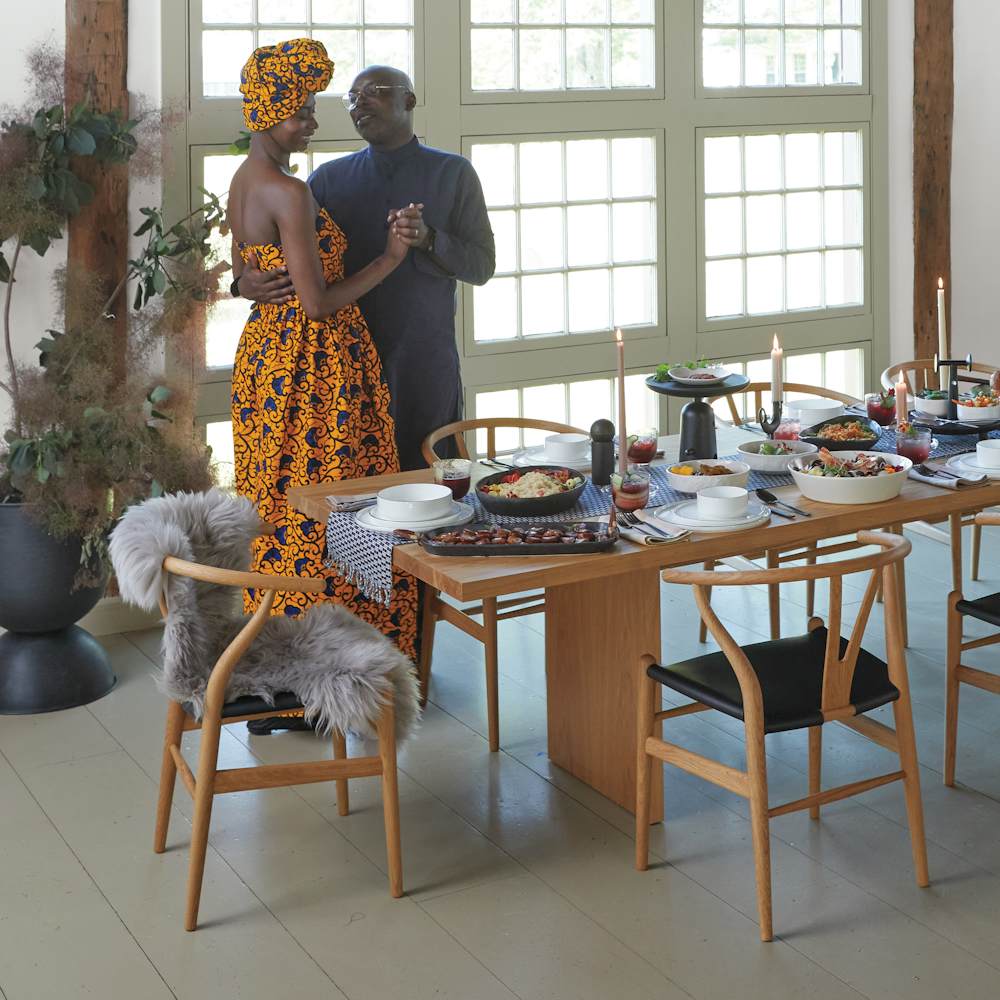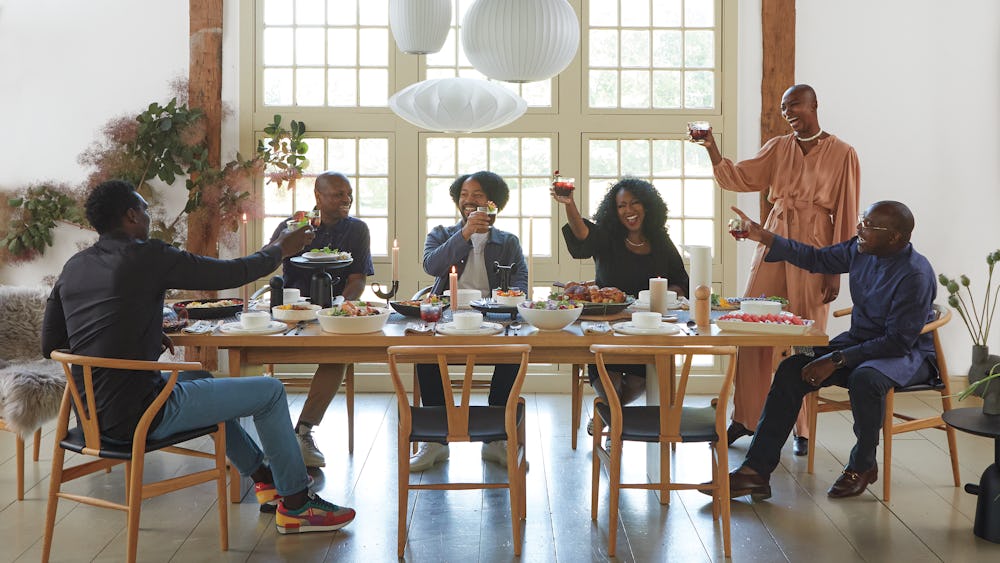 Cheers to being with friends
Chid Liberty and Georgie Badiel Liberty are one of those celestial couples who radiate energy, warmth, and charm, making others gravitate to their orbit. Chid (far right) is a Liberian-American social entrepreneur and CEO of Made in Africa as well as Liberty & Justice. Georgie (to his left) is a successful model and aspiring chef. Georgie grew up in the Ivory Coast and rural Burkina Faso, walking three hours every day just to get water. She started a foundation to build wells and bring clean water to her native country. They divide their time between Brooklyn and a 200-acre biodynamic farm and retreat center called The Dutchess that encompasses an inn, a 1700s stone house, and several antique barns, including the "yoga barn," where they hosted this dinner.
Chid and Georgie (above, far right) gathered with longtime friends (from left), Noté, a Liberian artist; Peter Jallah, who introduced Chid and Georgie; Ross Williams, a political fundraiser; and Amye Sinclair, CEO of Sinclair Social and VP of the National Women's Sailing Association.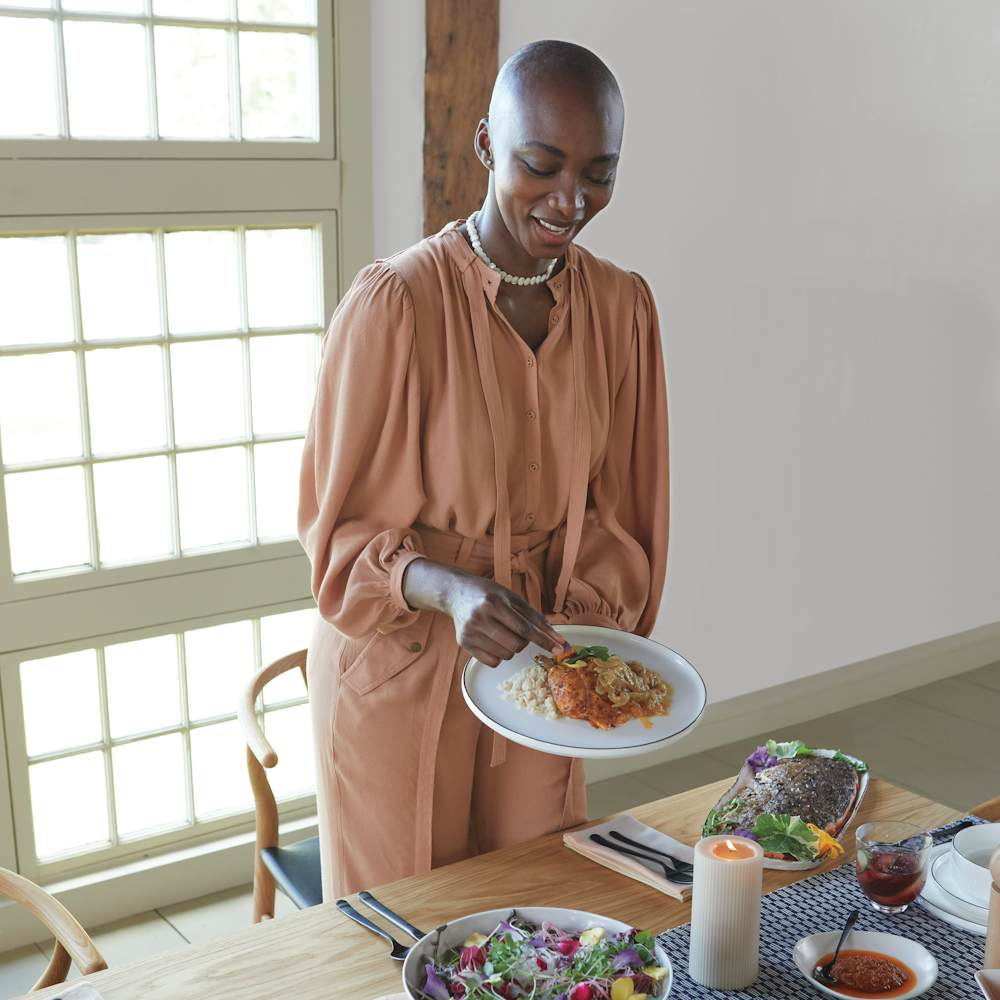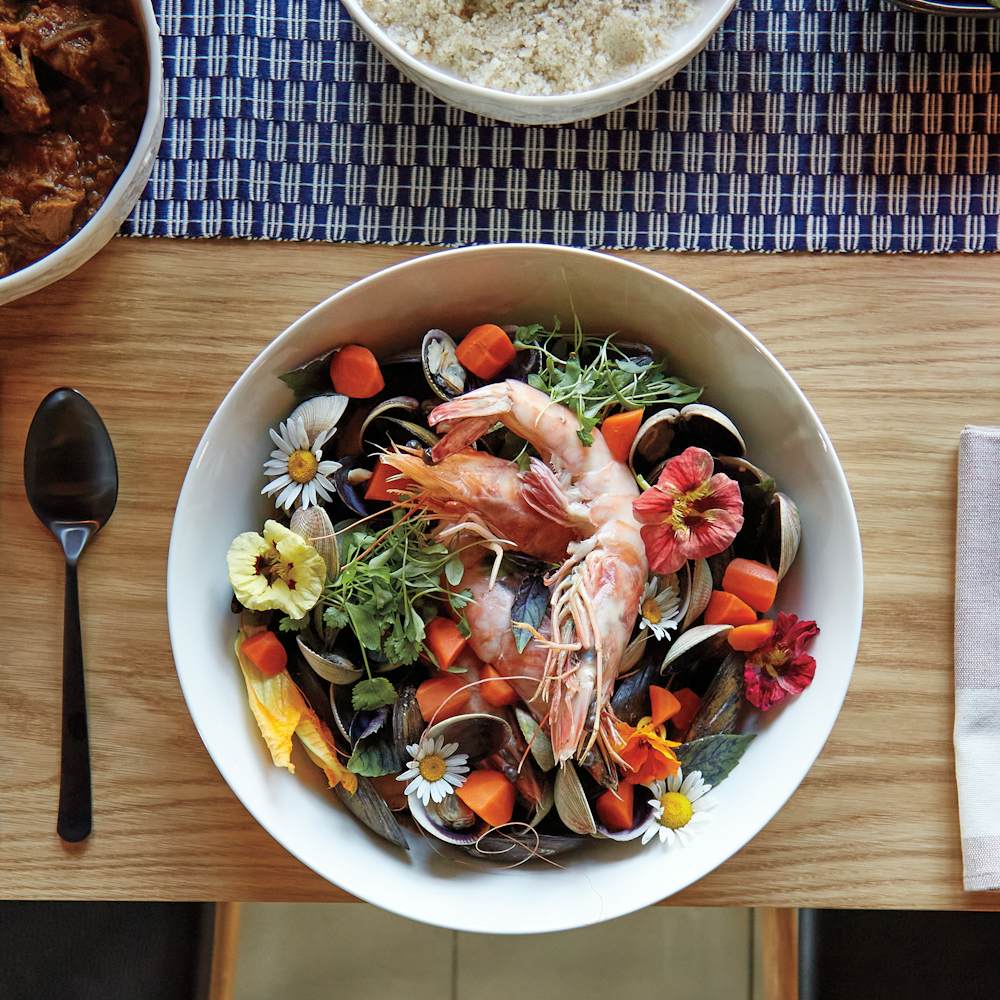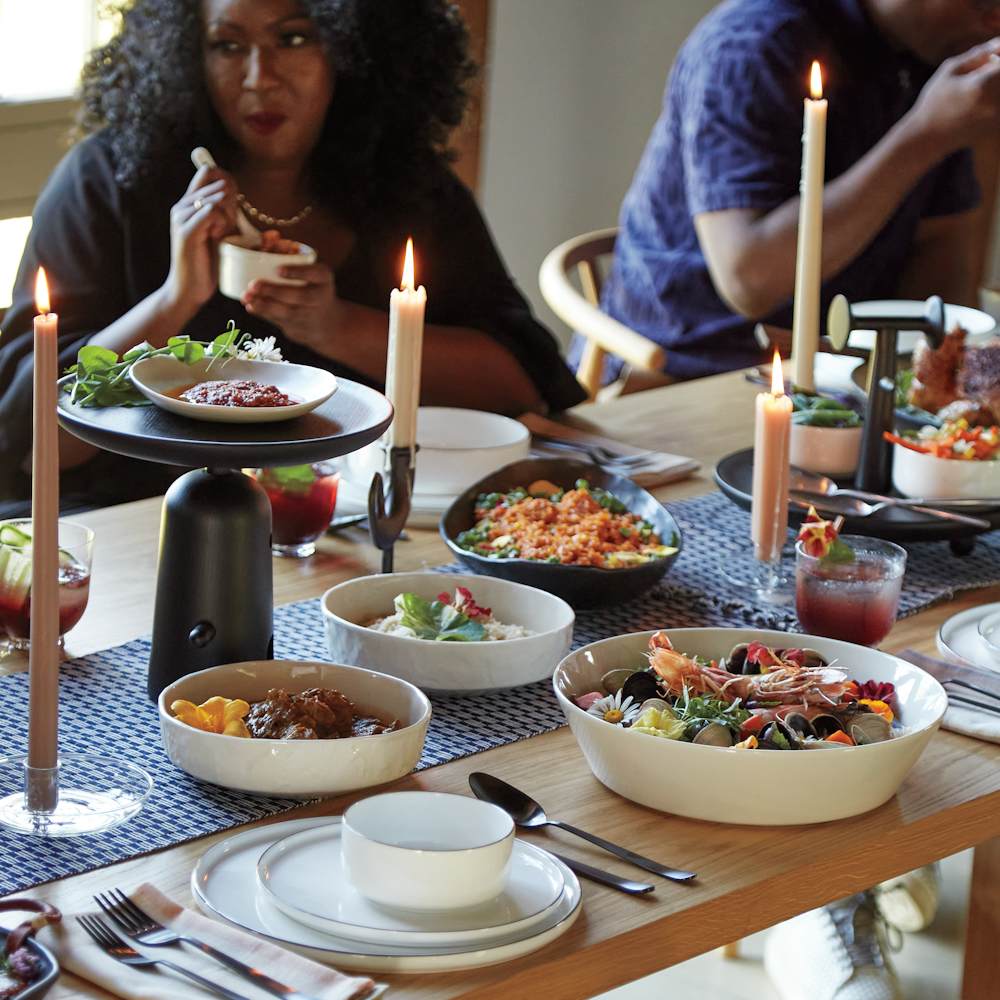 I use my grandmother's and mother's recipes to keep the West African food authentic. My mission as a chef is to make my culture and the deliciousness of African food better known by the world. —
Georgie Badiel Liberty
Menu
Monrovia Breeze Cocktails* · Summer Salad with Baobob Vinaigrette
Okra Palm Butter Stew with Beef & Fufu (mashed cassava and plantains) · Liberian Jollof Rice
Maffe Stew with Seafood · Chicken Yassa* (onion stew cooked in Dijon mustard)
Ivorian Attiéké (a couscous-like dish made with cassava)
Fried Plantains · Buttery Fonio* (a 5000-year-old grain native to Senegal)
Vegetable Jardinière in Buerre Fondu · Chocolate Cake & Watermelon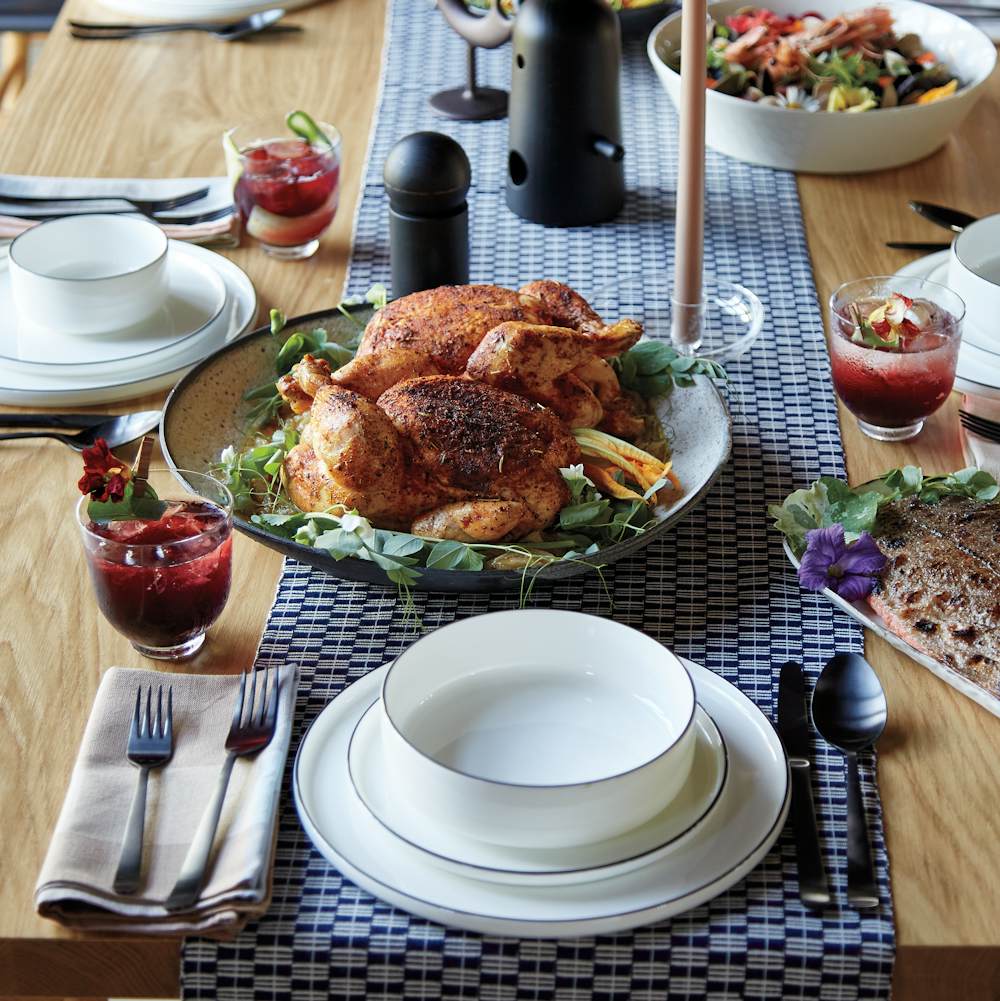 Chicken Yassa
Makes 4 servings 

Ingredients:
4 chicken legs (leg and thigh)
4 tablespoons Dijon mustard, divided
½ cup fresh-squeezed lemon juice or white vinegar
2 tablespoons chicken bouillon, divided
6 medium garlic cloves, minced
½ teaspoon salt, plus more to taste
½ teaspoon powdered coriander, plus more to taste
½ teaspoon black pepper, plus more to taste
5 onions, peeled and sliced julienne
1½ cups vegetable oil, divided
1 cup chicken stock
1 or 2 bay leaves
Chopped parsley for garnish


To marinate the chicken: In a large bowl, mix 2 tablespoons Dijon mustard, the fresh lemon juice or white vinegar, 1 tablespoon chicken bouillon, minced garlic, salt, coriander and black pepper. Add the chicken and mix together to coat. Cover the bowl with plastic wrap and let it marinate in the fridge for at least 3 hours or preferably overnight.
To cook the yassa stew: Add ½ cup of the vegetable oil to a rondeau (a large, somewhat shallow pot with a lid). Once the oil reaches a medium-hot temperature (place your hand above the oil to gauge the heat), carefully add the marinated chicken and sauté over medium heat. Once the skin is golden and the chicken is cooked through, remove and set aside. Remove the oil from the pan.
Add 1 cup fresh vegetable oil to the pan, then sauté the sliced onions until caramelized. Cook on low heat and keep adding more onions as they wilt. Add 2 tablespoons Dijon mustard, and more coriander, black pepper, and salt to taste. Let cook for another minute or two.
Add 1 cup chicken stock, the sautéed chicken, and bay leaves. Cover the pot and let cook on medium heat for 25-30 minutes. Stir in 1 tablespoon chicken bouillon and a sprinkle of salt to taste, and cook more 10 minutes.
Serve Chicken Yassa on a bed of rice, fonio, or vegetables. Add chopped parsley to garnish.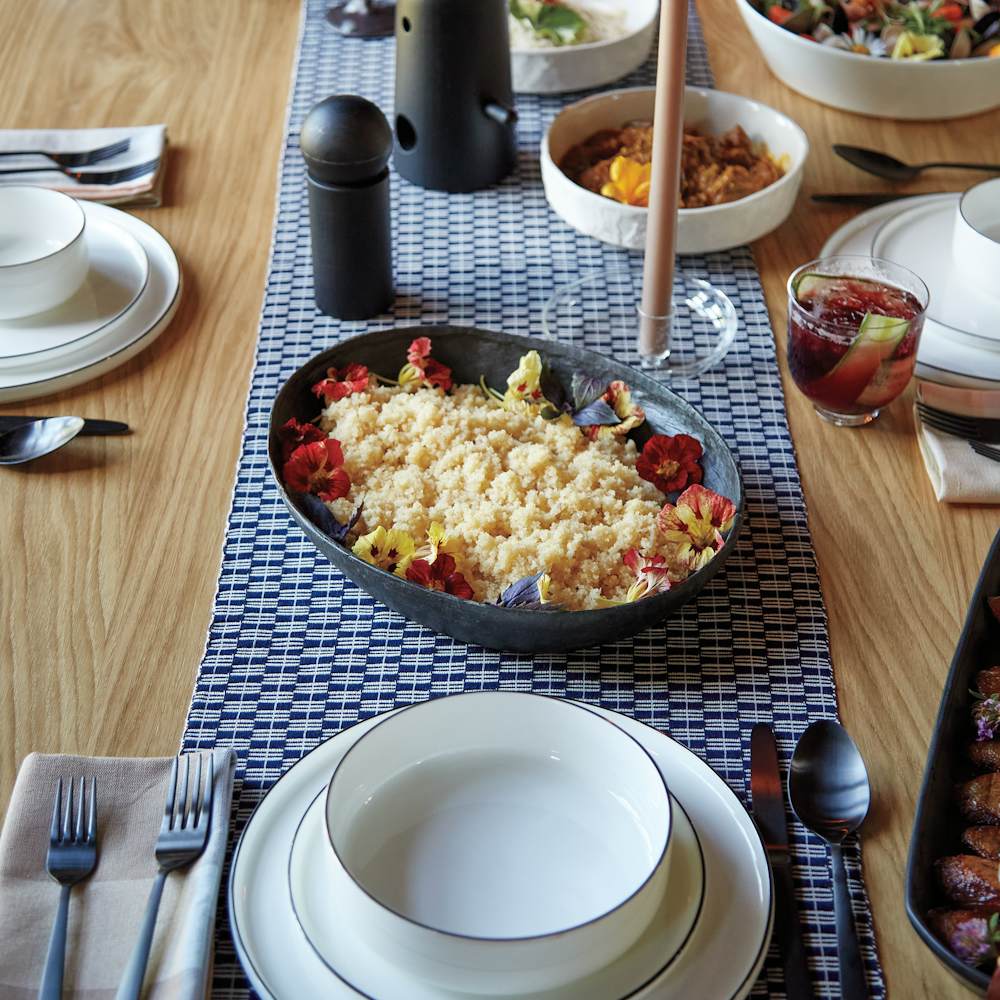 Buttery Fonio
Makes 4 servings

Ingredients:
3 cups water 
2 cups fonio (available on Amazon)
1 bay leaf 
2 stems of fresh thyme 
Salt to taste 
1 cup butter
Chopped parsley for garnish


Preheat the oven to 350° F.
In a medium, oven-safe pot, bring the water to a boil, then add the fonio and stir. Add the bay leaf, thyme, and salt to taste.
Cover and put in the oven for about 15-20 minutes.
When ready, add the butter, stir and serve. Garnish with chopped parsley.
Gathering with friends is a form of communion. We always begin with prayer and moment of gratitude for the food, and most importantly, the people with us – that's what's really feeding us and makes us feel so rich inside. —
Chid Liberty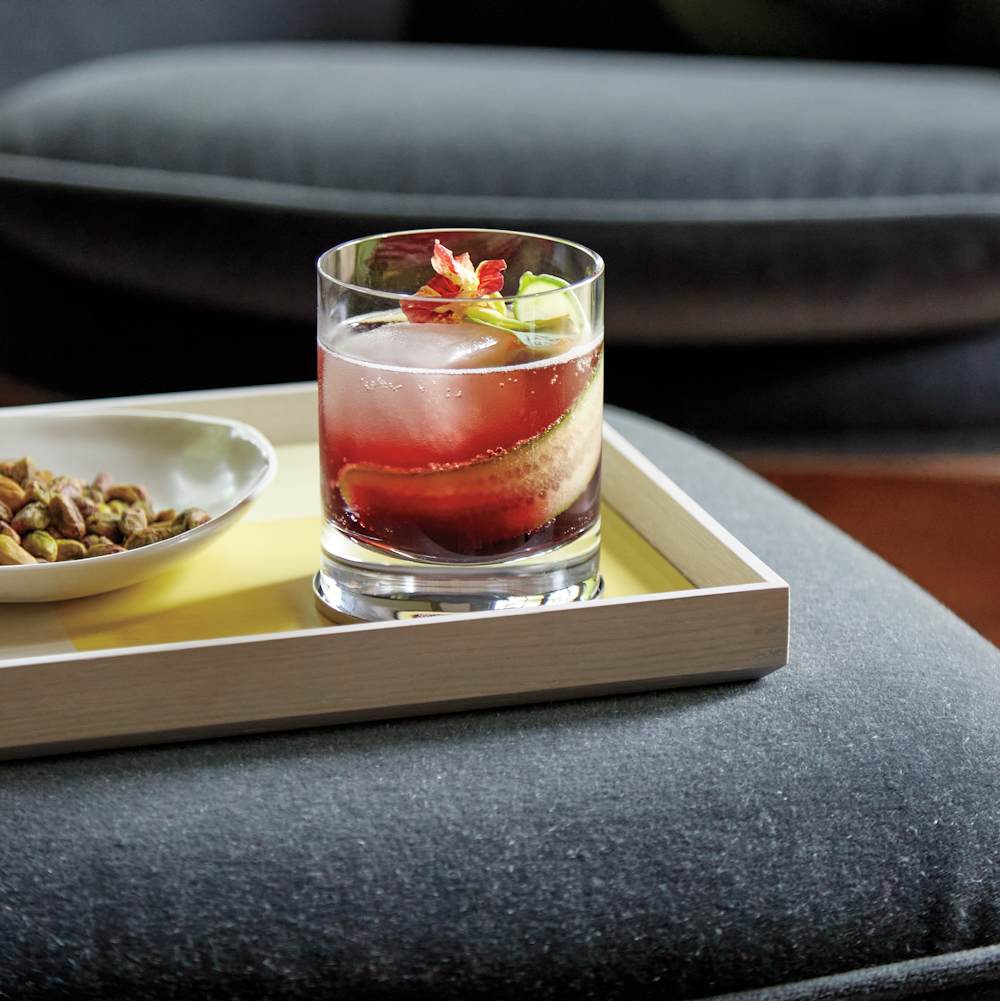 Monrovia Breeze
Makes 4 servings

Ingredients:
1 cup dried hibiscus flowers (available on Amazon)
3 cups water
1/3 cup sugar
¼ cup fresh pineapple, chopped
2 cinnamon sticks
Cucumber, sliced thin, lengthwise, for garnish


Simmer all the ingredients together in a saucepan for 35 minutes. Once ready, drain the liquid through a Chinois or sieve. Let cool, then refrigerate for two hours.
For a cocktail, add 1 shot tequila to ½ cup of the hibiscus mixture.
Serve on ice with fresh cucumber slice as garnish.